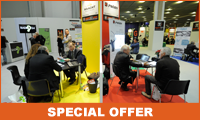 AGENTBASE Special Offer
FORUM AGENTI MILAN 2021
Would you like to recruit Italian Sales agents?
expired days to go until
Forum Agenti Milan
, the only
International
Fair
dedicated to the Recruitment
of Italian Commercial Sales Agents
. Held twice a year, this unique fair has been running for many years and is a well established way of recruiting Italian Sales Agents.
The next edition of
Forum Agenti Milan
will take place on
Thursday 22 and Friday 23 November 2018
at Fiera Milano RHO.
This is a Two-day event
of interviews (happening directly on-site) between between Principal Companies and Commercial Sales Agents.
Special 35% Discount for AgentBase Clients
Call for
more information
:
Steve
or
Roger
at
AgentBase
on +44 (0)1926 864200
or email
enquiries@agentbase.com
The "
AGENTBASE
Special Offer
" in detail:
3X2m Stand
Normal price 2.450,00 EUR.
Special Offer – 35% discount
- to
1.800,00 EUR
(saving 650,00 EUR)
In addition, the price includes:
Free Secure Parking inside the Exhibition Center.
Free Storage Unit in the Warehouse to keep Catalogues, Samples etc.
Forum Agenti is an "Easy Fair".
All Stands are fully equipped (graphic personalization included).
All you you need to do is arrive, talk, and recruit your new Italian Commercial Agents!

Attention!!!
Act now! There are just expired days to go.
And to take advantage of this offer, your order must be confirmed by Wednesday 7 November 2018.

For more information please call Steve or Roger at AgentBase on +44 (0)1926 864200 or email enquiries@agentbase.com
Click here to participate in AGENTBASE Special Offer
Click here to require More Information
Click here to go to Forum Agenti Milan

Would you like more information?
Call the Toll Free Number 800.86.16.16 (only from Italy)
or the Infoline: +39 06.41.21.71.44
The offer expires Wednesday 7 November 2018
For more information Click here or call the Italian Toll Free Number 800.86.16.16 (from Italy)