"Forum Agenti" The Exhibition of the Commercial Agents opens the doors
B2B Interviews between principals and agents at Fiera di Roma - A convention by Enasarco about the social security for commercial agents – Workshops and refresher courses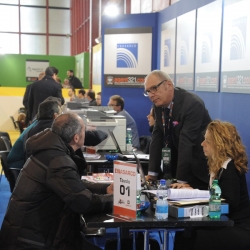 (Rome, 7 May 2014)
- The countdown to next Forum Agenti has started. The one-and-only exhibition focused on job interviews for commercial agents, representatives and brokers will take place at Pavillon 9 of "Nuova Fiera di Roma" Fair Center. Thousands of interviews will be held on Friday 9 and Saturday 10 may 2014.
The participation is open to every commercial agent and to everyone, even with no experience at all, willing to choose a career in sales. The entrance is free of charge and it is possible to access the exhibition directly or downloading the free ticket on ForumAgenti.IT/EN website.
Besides job interviews, several conventions, workshops and training courses will come along with the recruiting activity. The agenda lets the Forum be not only a time for concrete business opportunities but also a moment for drawing comparisons and acquiring up-to-date information.
The General Director of the Enasarco Foundation Carlo Bravi will attend the exhibition and hold a conference entitled "Enasarco: between past and future". With the support of the counsellor Thor Evans Carlson, the conference will aim at drawing a picture of the socio-economic context and showing the perspectives of social security for commercial agents. Moreover, an outline of the situation about the Enasarco Foundation will be done. In fact, year 2013 was a crucial one for the foundation: it registered a change in the course of action and totally renewing its commitment in favor of commercial agents.
In addition to Enasarco's Experts, Professionals in law, tax, social security and international agency agreement will share their time and expertise for free consulting to all those agents needing information or advices.