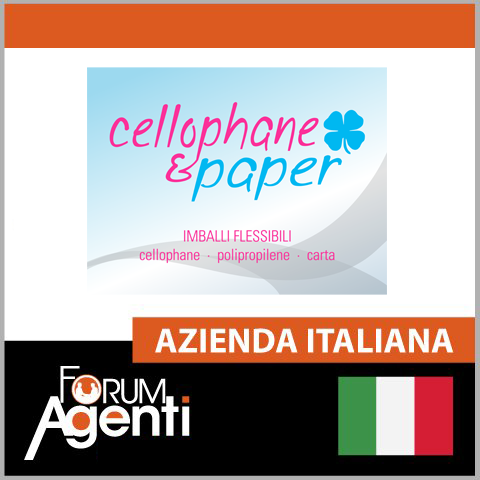 Cellophane & Paper S.r.l.
Sector of Activity: Imballaggi MOCA in carta e plastica nei settori HoReCa, Forni, Pasticcerie, Macellerie, Ristorazione
Areas of interest: Aosta Valley - Liguria - Lombardy - Piedmont
Book a Appuntamento with this Company
La Cellophane & Paper S.R.L., azienda produttrice operante nel settore del packaging Alimentare e NoN, ricerca Agenti di Commercio.
La Cellophane & Paper S.r.l. nasce nel 2011 da un'esperienza ventennale, nel settore delle materie plastiche. I nostri prodotti vanno dal confezionamento di cesti regalo all'ortofrutta. Confezionamento fiori, cartoleria, maglieria, accessori moda. Dischi per hamburger, fogli, buste, bobine microforate per la gastronomia (salumerie, macellerie, pasticcerie, panifici). Dal 2018 a seguito delle ultime normative a limitazione dell'utilizzo della plastica, abbiamo esteso l'attività al settore cartaceo: carta forno, carta sealing, carta umido resistente, carta antigrasso e carta bisiliconata.
Cellophane & Paper S.r.l.
Via Fuorchi, snc
84030 Atena Lucana Scalo (SA)
Tel: 0975 331875
Fax: