Dettaglio Azienda
Hakwood Handelmaatschappij En Houtverwerking Hak B.V. Stand B24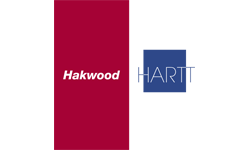 Leemansstraat, 2
4251LD Werkendam (OLANDA)
Tel: +31(0)183504266
Fax: -

HAKWOOD è un produttore olandese di prodotti di alta qualità per pavimenti e rivestimenti in legno. Oltre alla sua gamma di prodotti ha anche la linea HARTT, in cui è il principale produttore europeo di pannelli di assi di qualità a un prezzo competitivo.
Edilizia - Forniture Industriali - Legname
HAKWOOD is a Dutch producer of high end wooden flooring and wall products. We are driven by a passion for our craft. All our products are produced in our factory in the Netherlands. We have an extensive range of standard colors and textures but a big part of our business is bespoke.
Commercial: Projects are intelligent design for corporate offices, museums and theatres around the world.
Retail: The most respected names in retail trust their busy spaces to Hakwood for top quality and durability.
Hospitality: We deliver style and excellence in flooring performance that is required by premium resorts, restaurants and spa projects.
Residential: With luxury home interiors we meet the demands of every client's unique aesthetic and lifestyle.
Visit our website for the specific projects and pictures. We supply our product worldwide and depending on the area either direct or via a partner installer.
HARTT is the premier European producer of quality plank paneling at a competitive price. Our parent company Hakwood has decades of experience in creating quality wood products for clients across the globe. We have the knowhow, the production facility and the distribution network to supply a top of the market product to purchasers worldwide.
Our combination of carefully selected raw materials and efficient machinery allows us to offer you a quality product at a very competitive price. As a starting point, we only use the best wood: certified Scandinavian, Baltic and Russian specially graded Whitewood and Redwood. Moreover, we designed our machines in-house to get the best result possible. Using our technical ingenuity and experience, we engineered a revolutionary machine forty years ago – one that still makes us a market leader today!
Visit our website for more details. We supply our product worldwide and depending on the area either direct or via a distributor.
In order to increase our sales structure Hakwood is looking for Italian Sales Agents for both production lines in order to acquire new business in Italy.
We require:
HBO (higher professional education) mentality
Minimum of 2-3 years of relevant work experience
Sales mindset: working to achieve targets
Customer oriented with advanced communication skills
Good verbal and written communication skills in English (other languages are also appreciated)
Introduction to high end Architect & Designers market
Introduction to local distributors
For the position at Hakwood we require specifically:
Knowledge of/experience with Exact online software is considered a plus
Introduction to local dealers / installers
We offer:
Working for a global market leader in the field of wooden floors
Lots of responsibility and room for initiatives
Short lines of communication and an informal working environment
Interesting commissions
The "strengths" of Hakwood:
Excellence, innovation and service;
Dutch design: Forward thinking design and technical expertise combine to create our stable, diverse, beautiful and environmentally responsible hardwood products.
Complete control: As the manufacturer, we assure our promise of excellence in quality is carried out in every product we deliver because we control each step of the process.
A family business: Hakwood is built on long-term relationships. We work hard each day to earn your loyalty and exceed your expectations in quality and service.
Inventor of Duoplank: Both the technology behind our wide width, long length Duoplank® and our site specific climatization give Hakwood the performance enhanced stability required for ALL climates.
Extensive Product Line
Our exceptionally broad collection of wide plank, European oak and European ash flooring is diverse by design. Hakwood offers a full range of colours, textures and finishes to service every client's need.
The "strengths" of Hartt:
Competitive
Quality
Efficient
Secure
Customize
Our production capacity is such that we'll be able to meet your demand today and moving forward. Thanks to our experience and flexibility, we can match existing product specifications or help develop a new concept. In short: we have what it takes to be your long-term partner for the reliable supply of premium quality plank paneling.
If you are interested by this offer, please send your CV and the consent to the use of personal data, as provided for by law.