Company's details
Motorsistem S.r.l. Stand B14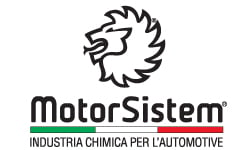 Via dell'Artigianato, 22
31050 Vascon di Carbonera (TV)
Tel: 0422.44.67.02
Fax: 0422.44.65.76

MotorSistem S.r.l., industria chimica per automotive, produce in prevalenza pacchetti additivanti ad alto rendimento per ottimizzare la qualità dei carburanti, spray tecnici per l'industria, attrezzature per autofficine.
Automotive, Aftermarket Parts & Supplies - Cars And Motorcycles - Equipment And Machinery
MotorSistem S.r.l., industria chimica per automotive, ricerca Agenti Plurimandatari diretti, ben introdotti e definiti nelle seguenti categorie di clientela e settore merceologico:
imprese di riparazione meccanica di auto, moto, nautica, veicoli industriali e movimento terra;
distribuzione carburanti, aree di rifornimento carburante e autolavaggio, a esclusione di quelle presenti nella rete autostradale.
Le figure da noi selezionate si occuperanno della gestione dei clienti acquisiti e dello sviluppo di nuovi potenziali clienti con programmazione delle visite, attraverso mappatura del territorio assegnato.

Requisiti necessari
possesso di partita IVA e iscrizione Albo Agenti Enasarco;
automunito;
buona conoscenza del settore merceologico in cui si opera;
predisposizione nell'apprendere e spiegare al cliente piccole nozioni di chimica;
discreta conoscenza nell'uso di pc e tablet.
Offriamo:
continua formazione tecnico commerciale;
contratto di Agente Plurimandatario con esclusiva;
ottime provvigioni e interessanti premi incentivanti.