Company's details
Hélène Dashorst Textile Design Stand B22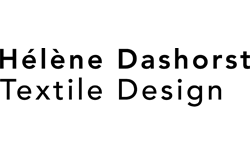 Pieter Calandlaan 01353
1069RE Amsterdam (OLANDA)
Tel: +31(0)624684208
Fax: -

Dashorst e van Veldhoven sono due designer di tessuti per interni provenienti dai Paesi Bassi con più di 25 anni di esperienza nel fornire ai tessuti per interni e all'industria della carta da parati idee creative e soluzioni tecniche. Le loro specializzazioni sono la progettazione di tessuti dobby, l'approvvigionamento di filati speciali, la progettazione di modelli per la stampa e il jacquard e le tecniche decorative industriali.
Dashorst & van Veldhoven are two interior textile designers from the Netherlands. We both have more than 25 years of experience in providing the interior textiles, wallpaper and carpet industry with creative ideas and technical solutions. Our specialisations are dobby/jacquard weave design, the sourcing of special yarns, pattern design for print and jacquard, and industrial decorative techniques. Our style is best described as modern and our market is mostly high end.
We show our designs every year at Heimtextil, Frankfurt and travel two months a year to visit clients on three different continents.
Our designs are sold exclusively, and include a digital file with pattern and/or construction of the fabric, plus other technical information. We have both spent a lot of time in industry to fully understand the machines that our clients work with. With some of our clients we work on a royalty base.
Fabric Products - Furniture And Furnishing - Textile
Siamo alla Ricerca di Agenti di Commercio per penetrare nel mercato italiano.
È importante che il nostro agente parli inglese fluente, abbia una vasta conoscenza e un portafoglio attivo dell'industria tessile e dei rivestimenti murali interni, sia proattivo e impegnato.
In cambio forniremo al nostro agente design unici di alto livello e commissioni interessanti.
We would like to penetrate the Italian market with the help of an agent.
It is important that our agent speaks fluent English, has extensive knowledge of and an active portfolio of the interior textiles and wall covering industry, is proactive and committed.
In return we will provide our agent with unique high level designs and interesting commissions.
To apply, please send your CV and photo, and the consent to the use of your personal data according to the law.