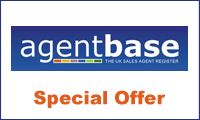 AGENTBASE Special Offer
Welcome to the section of the Forum Agenti website
dedicated
to
AGENTBASE
. From this page, Companies will be able to participate in the
International Fair
for the
Search and the Recruitment of Commercial Agents
, at Special Conditions.
Would you like
more information
? Please call
Steve
or
Roger
at
AgentBase
on
+44 (0)1926 864200
or email enquiries@agentbase.com
Please verify the conditions of the AGENTBASE dedicated to the Companies willing to participate in the next editions of Forum Agenti:
AGENTBASE Special Offer Forum Agenti Milan - November 2018
(59 days are missing to Forum Agenti Milan)

What is Forum Agenti?
Forum Agenti is the only Exhibition in the World entirely dedicated to the Search and the Recruitment of Commercial Agents. The Exhibition made of Job Interviews that are going to happen directly on site, between Commercial Agents who are looking for Companies and Principals that are looking for New Commercial Agents.
How does Forum Agenti Milan works in few words?1)
The
Company reserves
the Exhibition Space
Stand (3x2m or 4x3m)
.
2)
Our Editorial Staff contacts the Company for Company's
Logo
,
Catalogue
, etc….
3)
The Company
comes to the
Exhibition
and
meets
the interested
Agents
.
It is as simple as that! The Commercial Agents joining the Exhibition, will directly talk with the participating Companies.
Click here
to watch a video of the past editions.
Please call Steve or Roger at AgentBase on +44 (0)1926 864200
Or email enquiries@agentbase.com
Would you like more information?
Call the Toll Free Number 800.86.16.16 (only from Italy)
or the Infoline: +39 06.41.21.71.44

For more information Click here or call the Italian Toll Free Number 800.86.16.16 (from Italy)